Page Builders have increased in popularity over the years, especially within WordPress sites. But what are they? Are they all the same? And should you be using one? In this article, we'll answer these questions and give you the top five benefits of using a WordPress Page Builder.
What is a Page Builder?
A Page Builder is a content editing tool within your WordPress admin that lets you quickly and consistently design visually rich pages. It enables you to build pages from a collection of components and combine them however you need, just like lego.
Page Builders are a more advanced user interface for content creation. They're user friendly, require no coding knowledge and often take advantage of drag and drop functionality. To understand them in a bit more detail, it's useful to explore how CMS use has evolved.
Creating pages with a WYSIWYG editor
In the early days of WordPress, the content editor was what's called a WYSIWYG (what you see is what you get) editor. This made a lot of sense when WordPress and many other CMS platforms were primarily focused on creating a long-form blog post. You'd write your copy, add your images and it would appear in a standard layout.
This however isn't great for more complex layouts, which is why templates were developed.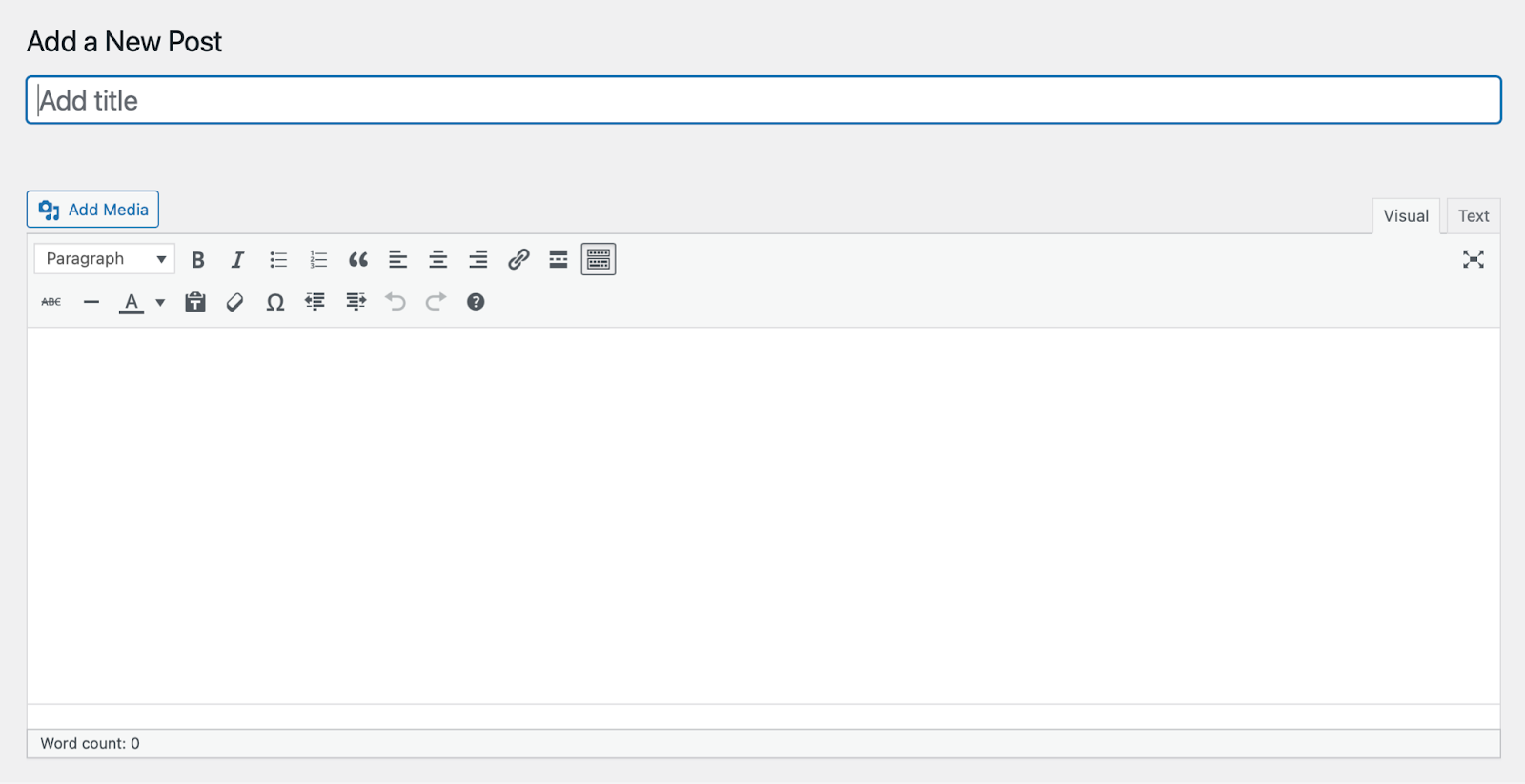 Creating pages with templates
When working with complex layouts with different "chunks" of content, you need multiple content fields. Plugins like ACF (Advanced Custom Fields) became hugely popular within the WordPress community for providing the backend form fields to power these more complex layouts.
This enabled far more complex page designs to be created but if you wanted to make changes to your layout you'd need the help of a developer to update the template for you.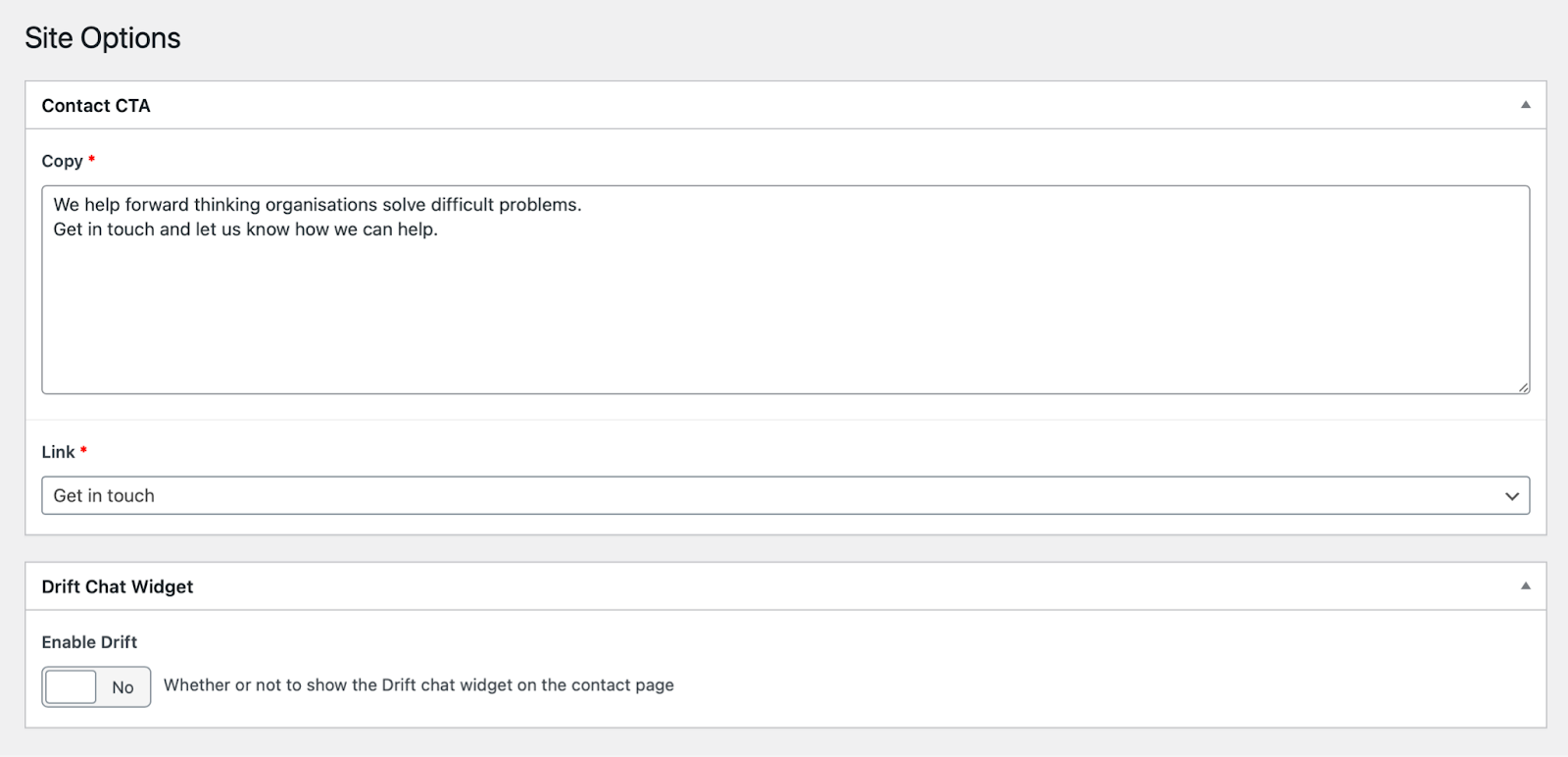 Enter the Page Builder…
Creating pages with a Page Builder
With a Page Builder, you think about the component parts that you might need, rather than a one-page template. For example a header banner, a slider, a content block, an image gallery, a form etc.
The WordPress admin allows you to mix and match these components to make a unique design for each page. It's a bit like building using lego, except instead of bricks you've got an inventory of web components to choose from.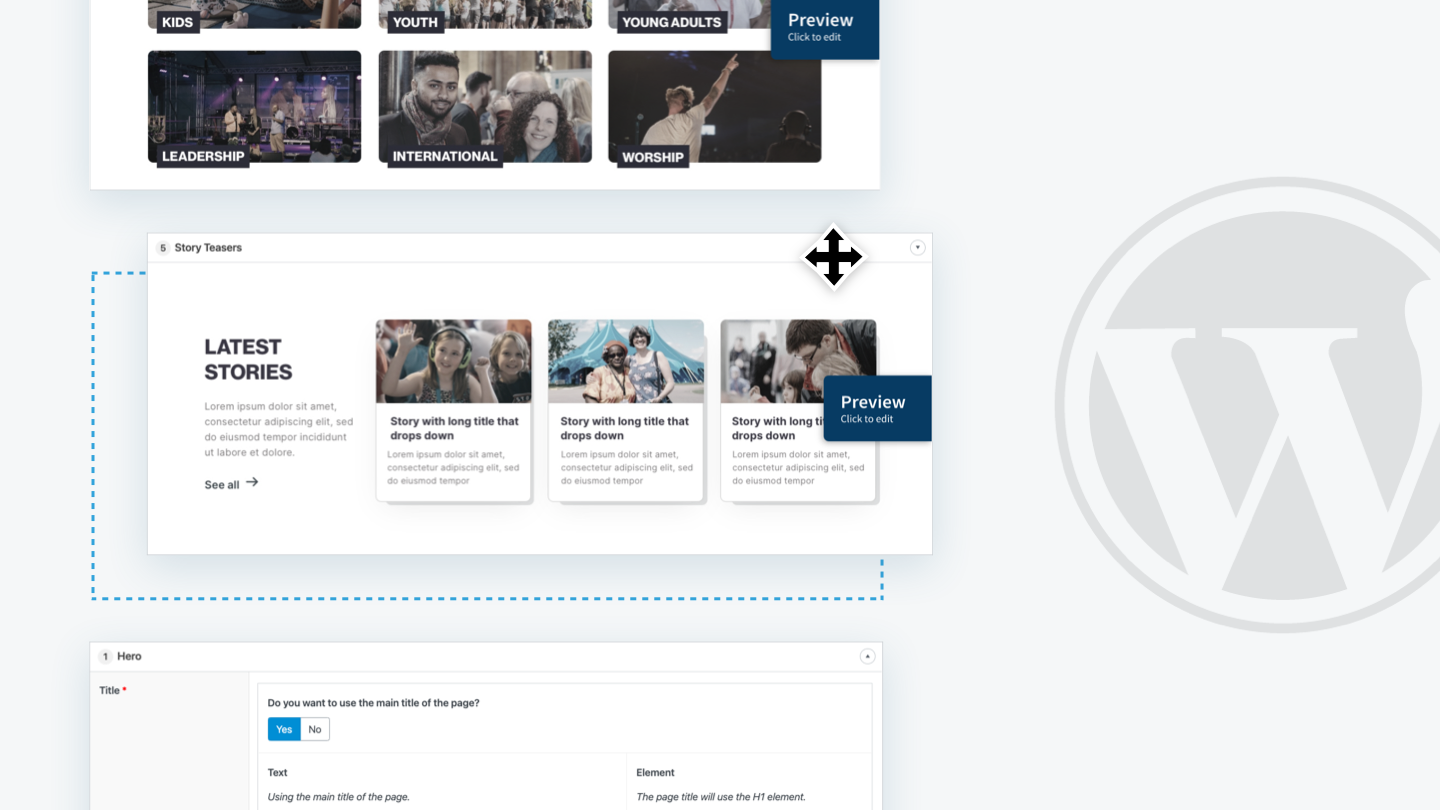 Benefits of using a Page Builder
The main benefit of using a Page Builder is that it let's you create the pages you need rather than being restricted by the templates you have.
1. Greater flexibility
Instead of fitting your content or narrative to a predefined template, you can design the page you need from pre-existing components. Instead of being restricted by a few templates, you have infinite layout possibilities.
2. More control
Because a Page Builder is more user friendly and doesn't require you to write code, content editors are able to make more changes to the site without the need of a web developer. In fact, the only time you'll need a developer is if you need to change how a component works or to add new functionality.
3. Improved consistency
Working from an inventory of professionally designed site components means that your pages are built from the same building blocks. This improves the user experience for your visitors, as they'll know what to expect. But also makes it easier for you to roll out changes. Should you need to update a component's look and feel or functionality, it will be automatically replicated everywhere it's used across the site.
4. User-friendly content editor
To create rich and featureful pages, you don't need to know how to code. Most Page Builders make use of drag and drop functionality, making the editor user experience simpler and a delight to use.
5. Compatible with component-based design and Pattern Libraries
It's increasingly popular to see a website as a system of reusable components and patterns. Design Systems and Pattern Libraries have become a great way to catalogue and document these systems. A Page Builder naturally complements this way of working and can also be integrated directly with a Pattern Library. On larger sites, this can greatly reduce the maintenance cycle and keep content editors, designers, product owners and developers in sync.
What Rareloop has built for us is not just a website but a powerful tool to enable us to create any page that we need, when we need it. The Page Builder interface has empowered our non-technical team and enabled us to communicate more effectively at speed.
Dave Barclay – Living Well Partnership
Don't miss out!
Sign up to get helpful articles, case studies and the latest news straight to your inbox.
Are all Page Builders created equal?
Page Builders come in all shapes and sizes. They can come as a; WordPress plugin, WordPress theme and some are built bespoke for the specific needs of your website.
Jack-of-all-trades Page Builder
Most of the plugin and theme options available are designed for the mass market and aim to be all things to all people. They focus on solving generic design problems that anyone can use and often come with more customisation options and configuration than you need. They can be difficult to implement and end up being a bit overwhelming to non-technical users. As a result, they often produce bloated front-end code that can damage page speed performance and can be problematic to customise. They also make it tough to produce a considered and consistent responsive design across devices.  These products do have their place but would not be our recommended approach for our partners with a medium to large site.
Optimised Page Builders
We recommend a tailored Page Builder interface that is designed and built with components just for you. Doing this ensures that helpful constraints are applied and consideration is given to the design of both the front-end and admin experience. This approach gives you an easy to use, bespoke output that is lean and fast. As a result, you don't need to compromise functionality or performance.
Both types of Page Builders share many of the same benefits but if you're looking to build a high performing, accessible brand website then the bespoke route is the way to go.
Should you use a Page Builder for everything?
This is a question we get asked a lot, and in a word, no!
A Page Builder is a tool, and like any tool is built for a certain job. Where a Page Builder shines is with highly dynamic pages where you need control over the content to construct your narrative. But not all pages on a site fit this model. Many parts of a website include much more structured data, that needs repeating between pages. Good examples of this might include event listing, a product catalog or staff bios. These content types tend to have defined meta-data and need a consistent appearance. Anything like this is a great candidate for a designed template.
It can be hard to decide when its best to use a Page Builder or a template, but your agency will be able to help. During the Discovery phase, they should help you identify the different types of content you will need to display and will be able to advise on which approach is most appropriate.
If built well you should be able to use the same components on your template pages as your Page Builder pages, to help keep a consistent UI across your site.
If you'd like to see a Page Builder in action or find out more about implementing one into your website do not hesitate to get in touch. We'd love to hear from you.